INTRODUCING THE SANDERO
Totally redesigned from the ground up, giving you more for less. With new LED Y-shaped headlights, hill start assist and emergency brake assist all as standard, we really are redefining the essentials. Generous boot and interior space gives you plenty of room to store life's essentials, making your day to day much more stress free.
SANDERO AWARDED IRISH COMPACT CAR OF THE YEAR 2022
Sandero was awarded Irish compact car of the Year 2022 by a jury of Irish motoring journalists who deemed it best in class based on a criteria ranging from innovation and safety, to space, comfort, build quality, driving dynamics and value for money.
Redesigned dashboard
With its new design, the dashboard brings all the essential controls together in the same place, putting everything you need an arms reach away.​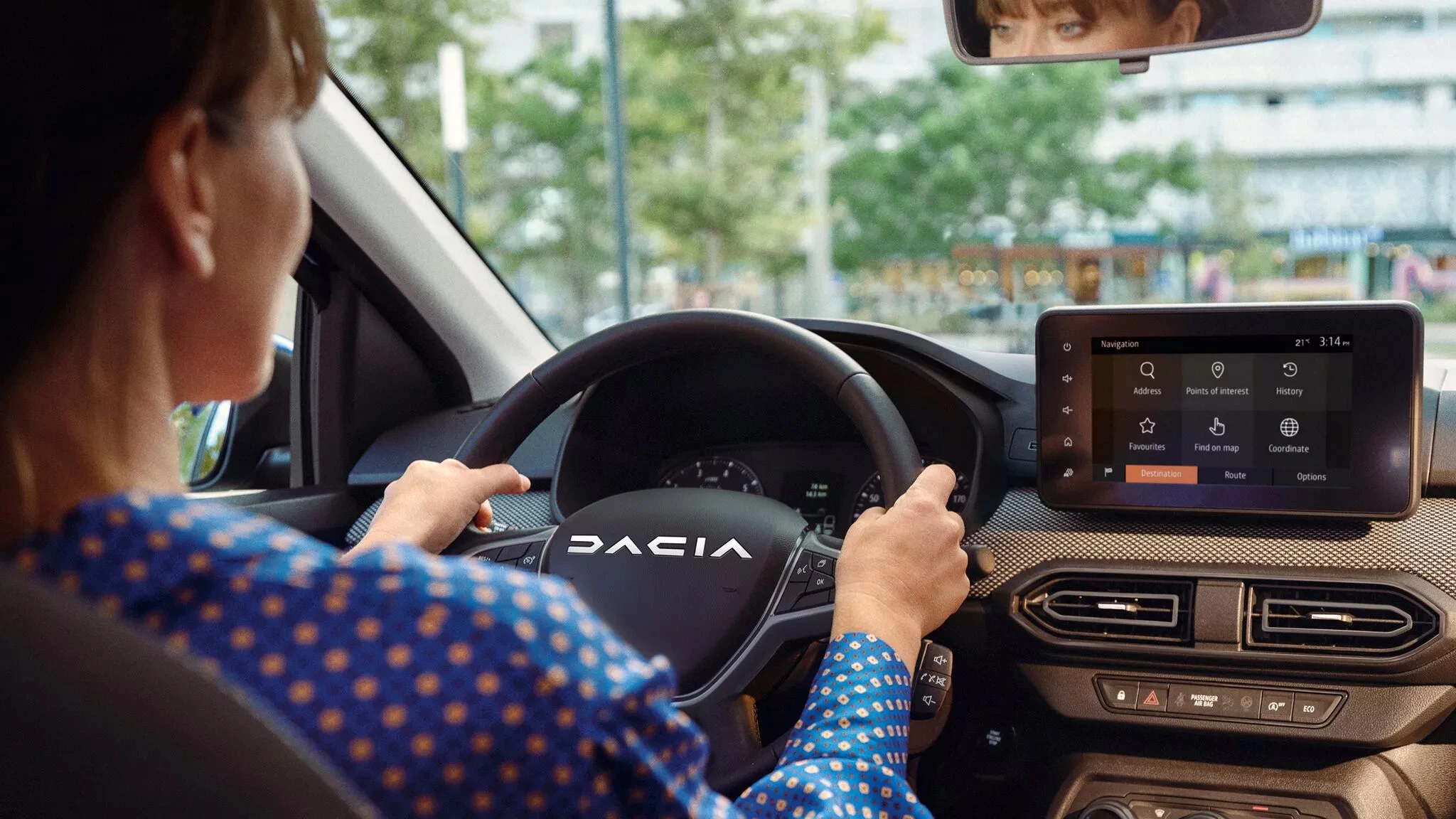 Comfort designed with you in mind
No more adjusting your seat on every journey to find that perfect driving position. With a fully adjustable steering wheel and adjustable seat, finding your home in the Sandero will be as quick as a flash.​
Get acclimatised
Easy to operate no-nonsense temperature controls linked with an air conditioning system ensures you can set a temperature that is comfortable for you in a snap. ​
8" Media Display compatible with Android Auto™ and Apple CarPlay™
All the information you need on a large 8-inch touchscreen with smartphone integration. Access your phone, navigation apps, radio, and music effortlessly.
Your smartphone can be connected with ease, via Bluetooth or via a handy USB port placed near the steering wheel. What's more, cars fitted with this system also have four integrated speakers, so you can sing along to your hearts content!
Dacia Media Control Smartphone App​
8-inch touch screen not for you? At Dacia, we allow you to use your own. Simply download our new Media Control app from your chosen app store, and have full access to sat nav, phone calls and key information about your car. Don't have a smart phone? Don't worry, you can still operate the radio and Bluetooth via the controls on the steering column and using the drivers display cluster.​
AN APPLICATION THAT LETS YOU DISCOVER OUR DACIA RANGE...
The Dacia AR app brings our Dacia models straight to you, so you can discover them in your own environment. Whether standing in the middle of an urban landscape or sitting out in the countryside, you can explore our Dacia range in any location!
FULLY INCLUDED SERVICING
We have a full range of servicing and warranty plans available. Our service plans include:​
Service plans cover all scheduled services as specified in the Owners Manual. This includes the replacement of engine oil and oil filters.​
The plan also includes: the checking of other lubricants (including brake fluid), and the checking of other serviceable items.
All labour costs involved in the scheduled service.​