INTRODUCING THE SANDERO STEPWAY
Totally redesigned from the ground up, the Sandero Stepway features rugged SUV styling with a raised driving position. New LED Y-shaped headlights, roof bars, hill start assist, air conditioning and emergency brake assist all as standard, we really are redefining the essentials. Generous boot and interior space gives you plenty of room to store life's essentials ensuring you're always ready for your next adventure.​
Modular roof bars
Yesterday, you wanted to transport a bike. Today, you need to install a roof box. Sound familiar? Our ingenious space-saving modular roof bars are standard from Comfort trim and transform from longitudinal to latitudinal roof bars in less than five minutes, so you can install accessories directly, without having to purchase a new set of bars. Clever that!​
Adjustable boot
Need that extra space every now and again? Simply fold down the rear bench and remove the adjustable boot floor, to give you maximum space.​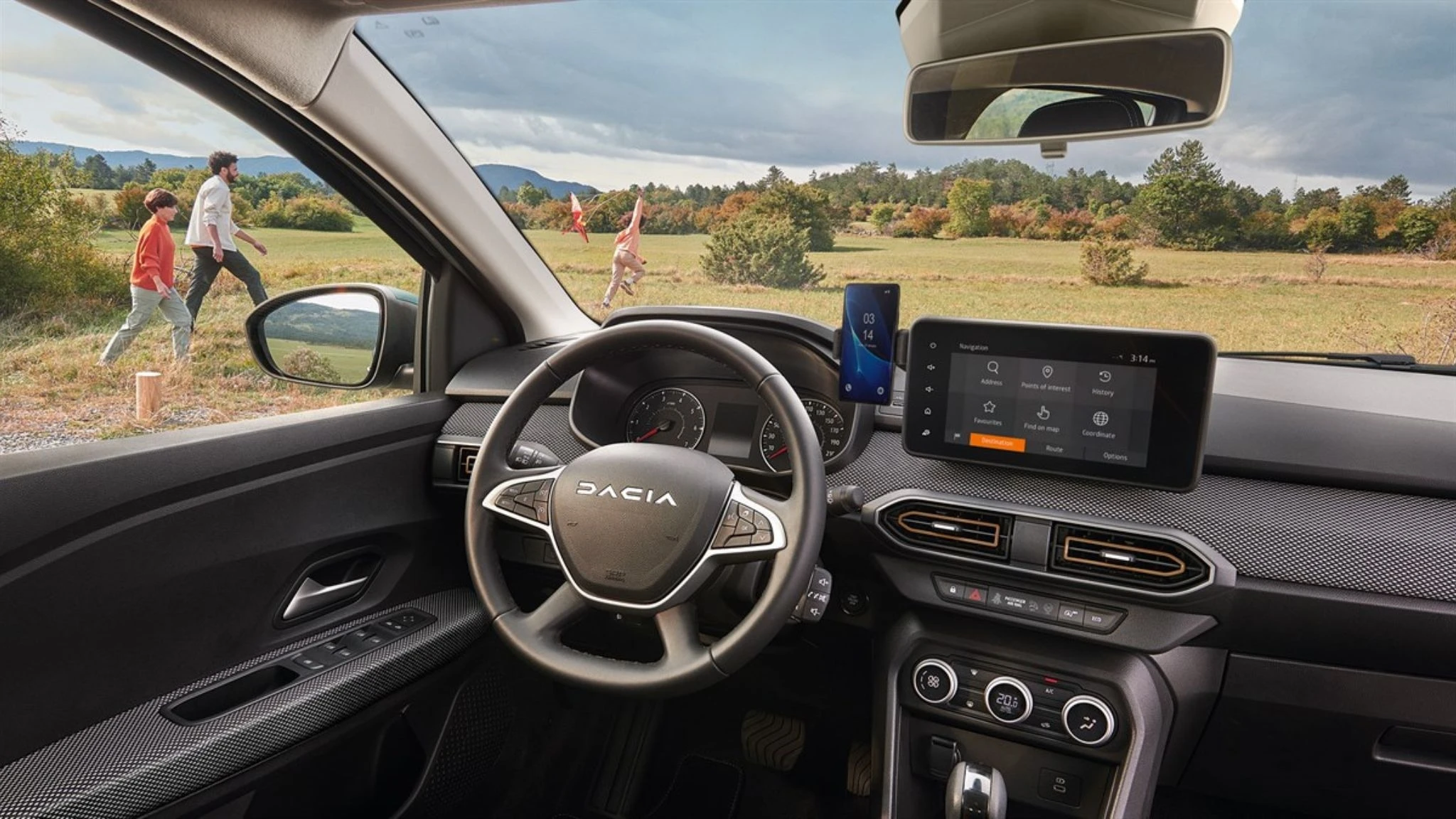 High ground clearance
With its high ground clearance, you can tackle different types of roads with ease onboard your Sandero Stepway.
Hands-free card
Fed up of hunting around in your pocket or bag for your car key? Our Comfort trim level comes with Keyless entry as standard.​
Clever storage
The central armrest in Sandero Stepway features several clever storage compartments to help you organise your daily life.
8" Media Display compatible with Android Auto™ and Apple CarPlay™
All the information you need on a large 8-inch touchscreen with smartphone integration, included with most model versions. Access your phone, navigation apps, radio, and music effortlessly. ​
Your smartphone can be connected with ease, via Bluetooth or via a handy USB port placed near the steering wheel. What's more, cars fitted with this system also have four integrated speakers, so you can sing along to your hearts content!
Media Nav
Inbuilt navigation, wireless smartphone mirroring, more than you need on a large 8-inch touchscreen. Simply connect your smartphone wireless, via Bluetooth or via a handy USB port placed near the steering wheel. There is an additional USB port fitted on the central console and this system comes with 6 integrated speakers, for the best sound quality!
Dacia Media Control Smartphone App​
8-inch touch screen not for you? At Dacia, we allow you to use your own. Simply download our new Media Control app from your chosen app store, and have full access to sat nav, phone calls and key information about your car. Don't have a smart phone? Don't worry, you can still operate the radio and Bluetooth via the controls on the steering column and using the drivers display cluster.​
AN APPLICATION THAT LETS YOU DISCOVER OUR DACIA RANGE...
The Dacia AR app brings our Dacia models straight to you, so you can discover them in your own environment. Whether standing in the middle of an urban landscape or sitting out in the countryside, you can explore our Dacia range in any location!
FULLY INCLUDED SERVICING
We have a full range of servicing and warranty plans available. Our service plans include:​
Service plans cover all scheduled services as specified in the Owners Manual. This includes the replacement of engine oil and oil filters.​
The plan also includes: the checking of other lubricants (including brake fluid), and the checking of other serviceable items.
All labour costs involved in the scheduled service.​